September 2008
Self-Treatment: With power comes responsibility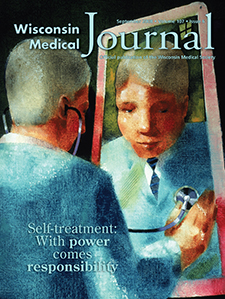 Treating oneself, one's family and one's colleagues is an issue that certainly is not new to physicians, but one many have faced. Yet it is not often taught or even discussed. In this issue of the Wisconsin Medical Journal, three physicians discuss what is acceptable and what is not when it comes to this aspect of medicine.
Click here to download a complete PDF of the issue. Click here to view the WMJ archive.
TABLE OF CONTENTS
Editorial
In This Issue
A Comprehensive Journal, and the Opportunity for Discussion
John J. Frey, III, MD, WMJ Medical Editor
Wis Med J. 2008;107(6):277.
Commentary
The Two-Physician Family and the Medical Treatment of Our Children
Thomas Meyer, MD
Wis Med J. 2008;107(6):285.
Commentary
Lessons in Objectivity: As a Physician's Daughter and Now a Physician Mother
Leandrea Lamberton, MD
Wis Med J. 2008;107(6):286.
Original Research
Doctors Who Doctor Self, Family, and Colleagues
Edward J. Krall, MD
Wis Med J.  2008;107(6):279-284.
A Comparison of Open and Laparoscopic Techniques in Elective Resection for Diverticular Disease
Stephen B. Shapiro, MD, FACS; Pamela J. Lambert, RN; Michelle A. Mathiason, MS
Wis Med J.  2008;107(6):287-291.
Exploring the Effect of the Referring General Surgeon's Attitudes on Breast Reconstruction Utilization
D. Heath Stacey, MD; Michelle A. Spring, MD; Tara M. Breslin, MD, MPH; Venkat K. Rao, MD, MBA; Karol A. Gutowski, MD
Wis Med J.  2008;107(6):292-297.
Case Report
Fulminant Myopericarditis From Phenytoin-Induced Systemic Lupus Erythematosus
Brett D. Atwater, MD; Zhaowei Ai, MD, PhD; Matthew R. Wolff, MD
Wis Med J.  2008;107(6):298-300.
Your Profession
Talent, Teamwork Give Rise to Best Kidney Transplant Outcomes in Midwest
Jonathan I. Ravdin, MD
Wis Med J. 2008;107(6):303-304.
Your Practice
Another Round of Stark Law Changes Coming Your Way as Early as October 1
Alyce C. Katayama, JD; Sarah E. Coyne, JD; Kerry L. Moskol, JD
Wis Med J.  2008;107(6):305-306.
Seven Reasons to Consider a Trust
E.G. Schramka, JD, CPA, PFS, CVA
Wis Med J. 2008;107(6):307-308.
New Reporting Requirements for Nonprofit Organizations
Robert J. Foulks, Jr., CPA, CAE
Wis Med J. 2008;107(6):301-302.
Share WMJ