Vol. 119, Issue 4
December 2020
COVID-19 & The Great Mask Debate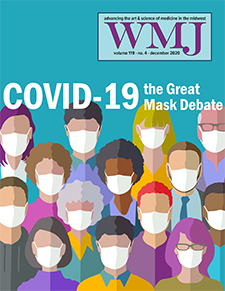 As the COVID-19 pandemic continues, an increasing body of research looks at all aspects of the virus and its impact on health. This issue of WMJ includes several COVID-related papers, including a comprehensive review that points to the evidence in favor of community face coverings to slow the spread of COVID-19.
Click here to download a complete PDF of the issue. Click here to view the WMJ archive.
TABLE OF CONTENTS
EDITORIAL
Review Articles
Original Research
Brief Reports
Case Reports
Your Profession
Share WMJ
THANK YOU TO THESE ADVERTISERS FOR THEIR SUPPORT!