Editor's Note: This page serves as a repository of COVID-19-related content published by WMJ. For push notifications when new content is added, please follow @wismedonline on Twitter and subscribe to WMJ email updates.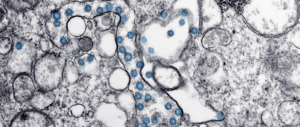 Original Research
Clinical Features of COVID-19 Infection in Patients Treated at a Large Veterans Affairs Medical Center
Thomas J. Ebert, MD, PhD; Shannon Dugan; Lauren Barta, MD; Brian Gordon, MD; Calvin Nguyen-Ho; Paul S. Pagel, MD, PhD
WMJ. 2020;119(4): 248-252.
Utilization and Results of Repeat SARS-CoV-2 RT-PCR Testing in a Presumptive Low Prevalence Population
S. Krisztian Kovacs, MD; Jill Palmer, MT(ASCP); Derrick J. Chen, MD; William Rehrauer, PhD; David T. Yang, MD
WMJ. 2020;119(3):177-181.
Changes in Alcohol Use Patterns in the United States During COVID-19 Pandemic
Nicole Boschuetz, MD; Shanna Cheng, MD; Ling Mei, MD; Veronica M. Loy, DO
WMJ. 2020;119(3):171-176.
Investigating the Trajectory of the COVID-19 Outbreak in Milwaukee County and Projected Effects of Relaxed Distancing
Amin Bemanian, PhD; Kwang Woo Ahn, PhD; Mallory O'Brien, PhD, MS; Darren J. Rausch, MS; Benjamin Weston, MD, MPH; Kirsten M. M. Beyer, PhD, MPH, MS
WMJ. 2020;119(2):84-90.
Review
The Great Mask Debate: A Debate That Shouldn't Be a Debate at All
John R. Raymond, Sr., MD
WMJ. 2020;119(4):229-239.
Brief Reports
Decrease in Positivity Rate of Influenza Tests Coinciding With Outbreak of SARS-CoV-2: Data From a Southeastern Wisconsin Laboratory
Siddhartha Singh, MD, MS, MBA; Nathan A. Ledeboer, PhD; Purushottam W. Laud, PhD; Ryan Hanson, MS; Jonathon D. Truwit, MD, MBA
WMJ. 2020;119(4): 275-277.
Low Rate of SARS-CoV-2 Infection in Adults With Active Cancer Diagnosis in a Nonendemic Region in the United States
Yana Puckett, MD, MBA, MPH, MSc; Lee Wilke, MD; Sharon Weber, MD; Amanda Parkes, MD; Noelle K. LoConte, MD
WMJ. 2020;119(4): 286-288.
University of Wisconsin Guidelines for Treatment of Facial Trauma While Minimizing the Risk of COVID-19 Transmission
Shady Elmaraghi, MD; Venkat K Rao, MD, MBA; Catharine B. Garland, MD; Benjamin C. Marcus, MD; Delora L. Mount, MD
WMJ. 2020;119(3):202-204.
COVID-19 Experience in a Wisconsin Academic Medical Center
Julie M. Kolinski, MD; Sakthi K. Sundararajan, MD; Sheila Swartz, MD; Kavita V. Naik, MD; Navdeep Gupta, MD
WMJ. 2020;119(3):198-201.
Commentaries
Mind the Gaps: Supporting Key Social Safety Nets Across the Digital Divide in Rural Wisconsin
Kellia J. Hansmann, MD, MPH; Quinton D. Cotton, MSSA; Amy JH Kind, MD, PhD
WMJ. 2020;119(4): 227-228.
Good Morning Doctor; Welcome to a New Day
Marc Tumerman, MD
WMJ. 2020;119(4): 225.
It's Not Enough
Jonathan Temte, MD, PhD; Robert N. Golden, MD
WMJ. 2020;119(4): 296-297.
A New Road Map for Our Nation's Response to COVID-19
Robert N. Golden, MD; Joseph E. Kerschner, MD
WMJ. 2020;119(3):215-216.
The Year Sports Died
Ryan J. Wagner, DO
WMJ. 2020;119(3):145-146.
Redefining Self-Interest – The US Response to COVID-19 
John T. Roddy, MD; Jesse Muehlbauer
WMJ. 2020;119(3):147-148.
The Impact of the COVID-19 Pandemic on Medical Student Education in Wisconsin
William J. Hueston, MD; Elizabeth M. Petty, MD
WMJ. 2020;119(2):80-82.
COVID-19 Poses Challenges to Immigrant Physicians in the United States
Sonal Chandratre, MD; Aamod Soman, MD
WMJ. 2020;119(2):77-78.
Hearing the Call of Duty: What We Must Do to Allow Medical Students to Respond to the COVID-19 Pandemic
Adina L. Kalet, MD, MPH; Fabrice Jotterand, PhD, MA; Martin Muntz, MD; Bipin Thapa, MD, MS; Bruce Campbell, MD
WMJ. 2020;119(1):6-7.
Letter to the Editor
Emotional Support in Times of COVID-19: A Latinx Community Initiative
Patricia Tellez-Giron, MD; Fernando Cano Ospina; Shiva Bidar-Sielaff, MA; Brenda Gonzalez; Maria Mora Pinzon, MD, MS
WMJ. 2020;119(3):144.
Thanks to our Advertisers!