August 2010
Fighting the flu: What we've learned about H1N1 and more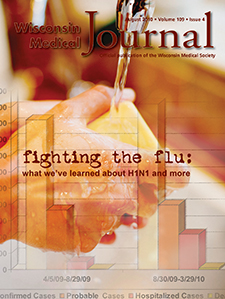 Effective response to influenza requires background knowledge about the virus as well as up-to-date public health surveillance data. This issue of the Wisconsin Medical Journal offers a better understanding of the epidemiology, clinical characteristics, diagnosis, prevention, and management of both seasonal and H1N1 influenza –essential elements of effective patient care.
Click here to download a complete PDF of the issue. Click here to view the WMJ archive.
TABLE OF CONTENTS
Editorial
In This Issue
'The Flu'
John J. Frey, III, MD
Wis Med J. 2010; 109(4):191.
Letters to the Editor
Comments on the Worst Doctor in the Worst Clinic
Paul Hartlaub, MD, and Russell J. Lewis, MD
Wis Med J. 2010; 109(4):190.
As I See It
A Summer in Research on Newborn Screening
Abigail M. Bales, BS
Wis Med J. 2010; 109(4):225-226.
ORIGINAL RESEARCH
Seasonal Influenza in Primary Care Settings: Review for Primary Care Physicians
Jonathan L. Temte, MD, PhD; Jacob P. Prunuske, MD, MSPH
Wis Med J. 2010; 109(4):193-200.
Epidemiologic and Clinical Features Among Patients Hospitalized in Wisconsin with 2009 H1N1 Influenza A Virus Infections, April to August 2009
Amit S. Chitnis, MD, MPH; Shaun A. Truelove, MPH; Jean K. Druckenmiller, BS, CIC; Richard T. Heffernan, MPH; Jeffrey P. Davis, MD
Wis Med J. 2010; 109(4):201-208.
Influenza-related Viral Myocarditis
Shereif H. Rezkalla, MD; Robert A. Kloner, MD, PhD
Wis Med J. 2010; 109(4):209-213.
The Usefulness of Health Care Databases in Wisconsin for Identifying Hmong Patients With Cancer
Mary Foote, MS; Jacqueline Matloub, MB, BS
Wis Med J. 2010; 109(4):214-218.
CASE REPORTS
Cardiac Computed Tomography and Quadricuspid Aortic Valve
Carrie B. Chapman, MD; Takushi Kohmoto, MD; Annie F. Kelly, MD; Frank Thornton, MD; Jon G. Keevil, MD
Wis Med J. 2010; 109(4):219-221.
HEALTH INNOVATIONS
'SWINEUPDATE': Using EMR Charting Tools as a Clinical Decision Support Tool During the H1N1 Outbreak
Alexander Young, MD
Wis Med J. 2010; 109(4):222-223.
YOUR PROFESSION
Dean's Corner
Birthday Reflections for Family Medicine at the University of Wisconsin
Valerie J. Gilchrist, MD, Robert N. Golden, MD
Wis Med J. 2010; 109(4):231-232.
Five Things Every Physician Needs to Know About Freebies and Discounts
Alyce C. Katayama, JD, Lisa A. Lyons, JD
Wis Med J. 2010; 109(4):233-234.
MetaStar Matters
WHITEC: The Wisconsin Health Information Technology Center
Jay A. Gold, MD, JD, MPH; Ashley Green
Wis Med J. 2010; 109(4):229-230.
2009 Foundation Fellowship Report
Barriers to Research in Rural Wisconsin
Alisha Fahley
Wis Med J. 2010; 109(4):227.
Share WMJ