June 2011
Building Bridges: collaboration promotes healthy communities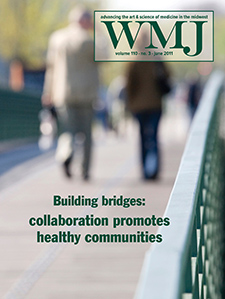 Collaboration is a concept often touted, but not always achieved. This issue of WMJ contains papers that describe how clinical care, research, and community health can benefit from new directions that bring people together for organization or community interest—examples of ways successful collaboration can build bridges to healthier communities.
Click here to download a complete PDF of the issue. Click here to view the WMJ archive.
TABLE OF CONTENTS
Editorial
Letters to the Editor
Recommendation for Management of I scapularis Bites Draws Mixed Reactions
WMJ. 2011;110(3):100.
In This Issue
Challenges and Opportunities of Working Together
John J. Frey, III, MD, WMJ Medical Editor
WMJ. 2011;110(3):111,150.
ORIGINAL RESEARCH
The Effect of Behavioral Health Consultation on the Care of Depression by Primary Care Clinicians
Neftali Serrano, PsyD; Kimberley Monden, PhD
WMJ. 2011;110(3):113-118.
Strong Rural Communities Initiative (SRCI) Program: Challenges in Promoting Healthier Lifestyles
Syed M. Ahmed, MD, MPH, DrPH, FAAFP; Tim Size, BSE, MBA; Byron Crouse, MD, FAAFP; Leslie Patterson, MS; Eric Gass, PhD; Sarita L. Karon, PhD; Liz Lund, BS; Connie Abert, MS; Amy Wergin, RN, BSN; Karen Hegranes, RN, MSN, PHN; Linda Bishop, MA; Sue Duffy, RN, BSN; Kevin Jacobson
WMJ. 2011;110(3):119-126.
The Emeritus Clinical-Researcher Program
Steven Yale, MD; Michael Jones, JD; Stephen D. Wesbrook, PhD; Stephen Talsness, BA; Joseph J. Mazza, MD
WMJ. 2011;110(3):127-131.
The Effect of Patient Reminders and Gas Station Gift Cards on Patient Adherence to Testing Guidelines for Diabetes
Sam Austin, MA; Barbara L. Wolfe, PhD
WMJ. 2011;110(3):132-137.
CASE REPORTS
Severe Pepper Allergy in a Young Child
Leslie Gimenez, MD; Michael Zacharisen, MD
WMJ. 2011;110(3):138-139.
Metastatic Neuroendocrine Tumor Found on Screening Mammogram
Amanda L. Amin, MD; Amanda L. Kong, MD, MS
WMJ. 2011;110(3):140-143.
YOUR PROFESSION
Looking Back…100 Years
Prolonged Cessation of Respiration—Recovery—Case Report
S.M. Morwitz S B, MD
WMJ. 2011;110(3):108.
From the Office of General Counsel
Lessen Risk, Avoid Billing Delays by Working with Postal Service
Faith N. Mondry, JD
WMJ. 2011;110(3):146-147.
Dean's Corner
Need for Translational Neuroscience Investigation Gives Rise to Multidisciplinary Research Center
Joseph E. Kerschner, MD
WMJ. 2011;110(3):149-150.
Share WMJ