October 2011
Focusing on education leads to improved care for patients with low-vision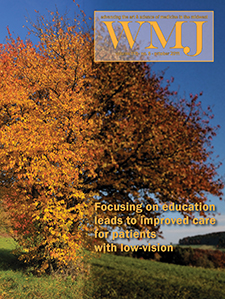 As our population ages, health care professionals are likely to see more patients with low vision. Educating health care staff about the needs of these patients can lead to a more satisfying experience for patients and staff, and may also lead to fewer adverse outcomes—as illustrated in one of the articles in this issue of WMJ, which focuses on preventing miscommunication and injury.
Click here to download a complete PDF of the issue. Click here to view the WMJ archive.
TABLE OF CONTENTS
Editorial
In This Issue
Prevention of Miscommunication and Injury
John J. Frey, III, MD, WMJ Medical Editor
WMJ. 2011;110(5):219-220.
ORIGINAL RESEARCH
Improving Communication Between Doctors and Parents After Newborn Screening
Michael H. Farrell, MD; Stephanie A. Christopher, MA; Audrey Tluczek, PhD, RN; Karen Kennedy-Parker, MT(ASCP); Alison La Pean, MS, CGC; Kerry Eskra, BBA; Jenelle Collins, BSN, RN; Gary Hoffman, MS; Julie Panepinto, MD; Philip M. Farrell, MD, PhD
WMJ. 2011;110(5):221-227.
Lyme Disease Testing in Children in an Endemic Area
Bashar Al-Sharif, MD; Matthew C. Hall, MDBashar Al-Sharif, MD; Matthew C. Hall, MD
WMJ. 2011;110(5):228-233.
A Multidisciplinary Course on Injury Prevention and Control for Medical Students
Travis P. Webb, MD; Andrea Winthrop, MD; Frederick Klingbeil, MD; Laurie Hein, BS; Mary Czinner, BS; Ann Christiansen, MPH; Stephen Hargarten, MD
WMJ. 2011;110(5):234-239.
CASE REPORT
Bronchopulmonary Sequestration Presenting as Recurrent Pneumonia
Govinda Aryal, MD; Vikas Pathak, MD
WMJ. 2011;110(5):240-242.
HEALTH INNOVATIONS
Low-Vision Education for the Health Care Workforce: A Strategy to Create a Vision-friendly Hospital
Ariba Khan, MBBS, MPH; Susan Simon, APNP
WMJ. 2011;110(5):243-246.
YOUR PROFESSION
Looking Back…to 1911
Undesirable Publicity
A.W. Myers, MD; J.P. McMahon, MD
WMJ. 2011;110(5):217.
From the Office of General Counsel
Anatomy of a Malpractice Claim-What Every Health Care Professional Needs to Know
Guy DuBeau, JD
WMJ. 2011;110(5):249-250.
Dean's Corner
Outcomes Research Brings Best Practices to Blood and Marrow Transplantation
Joseph E. Kerschner, MD
WMJ. 2011;110(5):251-252.
MetaStar Matters
MetaStar Begins Work on New Quality Improvement Organization Priorities Focused on System-wide Change
Jay A. Gold, MD, JD, MPH
WMJ. 2011;110(5):253.
YOUR PRACTICE
Providing Resources and Support for Physicians
W. Stancil Starnes
WMJ. 2011;110(5):254-255.
Share WMJ