August 2012
Are smoking bans leading to better health outcomes?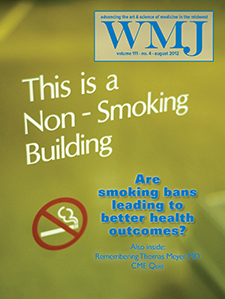 Concussion is a common medical problem with significant morbidity and sometimes devastating consequences. An article in this issue of WMJ reviews the current concepts of concussion pathophysiology and epidemiology, and provides an overview of proper diagnosis and management.
Click here to download a complete PDF of the issue. Click here to view the WMJ archive.
TABLE OF CONTENTS
Editorial
Remembering Tom Meyer
John J. Frey, III, MD
WMJ. 2012;111(4):155.
In This Issue
Policy and Health
John J. Frey, III, MD, WMJ Medical Editor
WMJ. 2012;111(4):159-160.
Original Research
Comparison of Time to Endoscopy and Outcome Between Weekend/Weekday Hospital Admissions in Patients with Upper GI Hemorrhage
Jason M. Haas, DO; Jacob D. Gundrum, MS; Scott W. Rathgaber, MD
WMJ. 2012;111(4):161-165.
Evaluating Effects of Statewide Smoking Regulations on Smoking Behaviors Among Participants in the Survey of the Health of Wisconsin
Alexis Guzmán, BA; Matthew C. Walsh, PhD; Stevens S. Smith, PhD; Kristen C. Malecki, PhD; F. Javier Nieto, MD, PhD
WMJ. 2012;111(4):166-171.
Case Report
Hypocalcemic Myopathy Secondary to Hypoparathyroidism
Seema M. Policepatil, MBBS; Robert H. Caplan, MD; Michael Dolan, MD, FACP
WMJ. 2012;111(4):173-175.
Special Report
Proposal for a State Health Technology Assessment Program
Phil Colmenares, MD, MPH
WMJ. 2012;111(4):176-182.
Health Innovations
Office-Based Nursing Staff Management of Hypertension in Primary Care
Danielle R. Gindlesberger, MD
WMJ. 2012;111(4):183-184.
Your Profession
Looking Back…to 1909
Sauce for the Gander
Arthur J. Patek, MD; Hoyt E. Dearholt, MD
WMJ. 2012;111(4):153.
Focus on Community Health
Physician's Passion for Books Benefits Youngest Patients and Families
Kendi Parvin, WMJ Managing Editor
WMJ. 2012;111(4):156-157.
Dean's Corner
The Wisconsin Partnership Program: Investing in a Healthier State
Robert N. Golden, MD; Eileen M. Smith
WMJ. 2012;111(4):189-190.
MetaStar Matters
The Cardiac Population Health Learning and Action Network – An Invitation
Jay A. Gold, MD, JD, MPH; Carrie Finley, RN, BSN
WMJ. 2012;111(4):191.
Your Practice
From the Office of General Counsel
Supreme Court Upholds Affordable Care Act, Questions Remain
John Rather, JD
WMJ. 2012;111(4):186-188.
Share WMJ