June 2013
Catch of the Day: Multipronged outreach needed to educate anglers about risks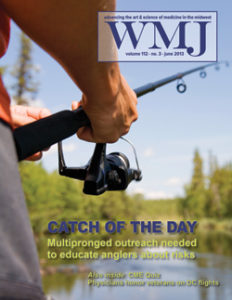 Fishing is a popular pastime that spans age and gender. But years of freshwater pollution have made warnings about heavy metals and PCBs necessary for everyone. A study in this issue of WMJ explores awareness among older anglers of the hazards of eating too much of what they catch, and calls for a multipronged approach for educating the fish-consuming public.
Click here to download a complete PDF of the issue. Click here to view the WMJ archive.
TABLE OF CONTENTS
Editorial
Letter to the Editor
Paying for the Uninsured
Donald R. Gore, MD, MS
WMJ. 2013;112(3):104
Letter to the Editor
Clarification on Use of High-dose Influenza Vaccine in the Elderly
Marvin J. Bittner, MD
WMJ. 2013;112(3):104
As I See It
Nutritional Misfortune
Kristin Roensch, BS
WMJ. 2013;112(3):105.
In This Issue
John J. Frey, III, MD, WMJ Medical Editor
The World We Live in Can Be Hazardous to Our Health
WMJ. 2013;112(3):109-110.
Original Research
Fish Consumption and Advisory Awareness Among Older Wisconsin Fishermen
Pamela Imm, MS; Henry A. Anderson, MD; Candy Schrank, MS; Lynda Knobeloch, PhD
WMJ. 2013;112(3):111-116.
A Single Urban Center Experience with Adult Pedestrians Struck by Motor Vehicles
Lisa M. McElroy, MD; Jeremy J. Juern, MD; Annette Bertleson, RN; Qun Xiang; Aniko Szabo, PhD; John Weigelt, MD
WMJ. 2013;112(3):117-122.
Health Innovations
A Pharmacist-Guided Protocol for Improved Monitoring of Patients on Antidepressants
Casey Gallimore, PharmD; Kenneth Kushner, PhD
WMJ. 2013;112(3):124-128.
Case Report
Empyema Necessitans Caused by Mycobacterium tuberculosis in an Immunocompetent Patient
David J. Magness, DO
WMJ. 2013;112(3):129-130.
Your Profession
Focus on Community Health
Physicians Honor Veterans as Medics on Flights to DC Memorials
Lisa Hildebrand
WMJ. 2013;112(3):106-108.
From the Office of General Counsel
Reshaping the Boundaries of Informed Consent in Wisconsin
Krista J. Sterken, Esq; Michael B. Van Sicklen, Esq
WMJ. 2013;112(3):139-140.
Dean's Corner
Priority Initiatives in Health Care and Research Harmed by Budget Cuts
Joseph E. Kerschner, MD
WMJ. 2013;112(3):141-142.
MetaStar Matters
Curbing Unnecessary Use of Antipsychotic Medication
Jody Rothe, RN, WCC; Jay A. Gold, MD, JD, MPH
WMJ. 2013;112(3):143.
Proceedings from the 2012 Annual Meeting of the American College of Physicians, Wisconsin Chapter
WMJ. 2013;112(3):131-137.
Share WMJ