February 2014
weight management: Battling obesity through better understanding and local interventions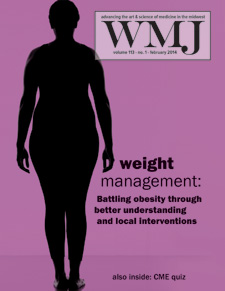 Over one-third of adults in the United States are classified as obese, and its impact on public health is well documented. In this issue of WMJ, researchers add to that literature, exploring both the epidemiology of obesity and a potential intervention to help address the problem.
Click here to download a complete PDF of the issue. Click here to view the WMJ archive.
TABLE OF CONTENTS
Editorial
In This Issue
If It Works, Test It Again
John J. Frey, III, MD, WMJ Medical Editor
WMJ. 2014;113(1):7-8.
Commentary
Could Hospital Community Benefit Enhance Community Health Improvement?
Erik Bakken; David Kindig, MD, PhD
WMJ. 2014;113(1):9-10.
original research
Blastomycosis Diagnosed in a Nonhyperendemic Area
Bridget L. Pfaff, MS; William A. Agger, MD, FACP, FIDSA; Thomas J. Volk, PhD
WMJ. 2014;113(1):11-18.
Immediate Total Parenteral Nutrition After Radical Cystectomy and Urinary Diversion
Khanh N. Pham, MD; Ian W. Schwartz, MD; Tullika Garg, MD; Peter Langenstroer, MD; Michael L. Guralnick, MD; William A. See, MD; R. Corey O'Connor, MD
WMJ. 2014;113(1):20-23.
Public health Brief report
The Epidemiology of Maternal Overweight in Dane County, Wisconsin
Carley Zeal, MD, MPH; Patrick Remington, MD, MPH; Mamadou Ndiaye, MD, MPH; Katharina Stewart, MD; Daniel Stattelman-Scanlan, RN, BSN
WMJ. 2014;113(1):24-27.
health innovations
Evaluating the Implementation of a Primary Care Weight Management Toolkit
Lynn Stiff, MS, RD; Lee Vogel, MD; Patrick L. Remington, MD, MPH
WMJ. 2014;113(1):28-31.
case report
Bilateral Pulmonary Nodules and Mediastinal Lymphadenopathy in a Patient with Sjogren's Syndrome
Vikas Pathak, MD; Jeffrey M. Resnick, MD; Tasbirul Islam, MD, MRCP
WMJ. 2014;113(1):32-34.
your profession
Looking Back…to 1939
Good Speech
M.G. Gillespie, MD
WMJ. 2014;113(1):4-5.
Dean's Corner
Innovation in Organ Transplantation Makes Best Use of Short Supply
Joseph E. Kerschner, MD
WMJ. 2014;113(1):35-36.
MetaStar Matters
Sustaining Improvements in Quality
Jessica King, Jay A. Gold, MD, JD, MPH
WMJ. 2014;113(1):37.
Your practice
Physicians are Key to ICD-10 Success
Jen Cohrs CPC, CPMA, CGIC
WMJ. 2014;113(1):39.
Share WMJ