February 2015
Can social marketing increase childhood immunizations in vulnerable populations?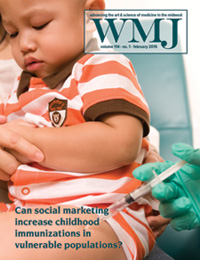 Although immunizations have been a public health success, vaccine-preventable diseases continue to occur disproportionately within vulnerable populations. A study in this issue of WMJ explores the efficacy of using targeted social marketing to increase parental awareness and intention to immunize.
Click here to download a complete PDF of the issue. Click here to view the WMJ archive.
TABLE OF CONTENTS
Editorial
In This Issue
Education Saves Lives
John J. Frey III, MD, WMJ Medical Editor
WMJ. 2015;114(1):8-9.
As I See It
A Summer House Call in Wisconsin
Justin Yamanuha, MD
WMJ. 2015;114(1):7.
Original Research
Evaluation of a Social Marketing Campaign to Increase Awareness of Immunizations for Urban Low-Income Children
Emmanuel M. Ngui, DrPH, MSc; Chelsea Hamilton, MA; Melodee Nugent, MS; Pippa Simpson, PhD; Earnestine Willis, MD, MPH
WMJ. 2015;114(1):10-15.
Factors That Affect Rate of INR Decline After Warfarin Discontinuation
James K. Burmester, PhD; Richard L. Berg; John R. Schmelzer, PhD; Joseph J Mazza, MD; Steven H. Yale, MD
WMJ. 2015;114(1):16-20.
Health Innovations
Increased Patient Communication Using a Process Supplementing an Electronic Medical Record
Thomas D. Garvey, MD; Ann E. Evensen, MD, FAAFP
WMJ. 2015;114(1):21-25
Case Report
Coronary Dissection in a Patient with Essential Thrombocytosis
Padmavathi Mali, MD; Sudheer Muduganti, MD; Kamilla J. Buddemeier, MD
WMJ. 2015;114(1):26-29.
Your Profession
Looking Back…to 1940
A Long Way Off
Karl H. Doege, Medical Editor; Mr. J.G. Crownhart, Managing Editor; Miss Dorothy Cirdland, Assistant Editor
WMJ. 2015;114(1):5.
Proceedings from the 2013 Annual Meeting of the American College of Physicians, Wisconsin Chapter
WMJ. 2015;114(1):30-37.
Appendix: American College of Physicians, Wisconsin Chapter, 2013 Abstracts
Share WMJ