October 2015
Ensuring successful medical handoffs to avoid health care fumbles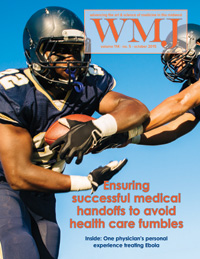 In football, miscommunication or misinformation can lead to a fumble on the field. In health care, the potential consequences of mismanaged handoffs are much more severe. A report in this issue of WMJ focuses on hospital discharges and the education needed to ensure safe handoffs occur.
Click here to download a complete PDF of the issue. Click here to view the WMJ archive.
TABLE OF CONTENTS
EDITORIAL
As I See It
Responding to the 2014 West African Ebola Outbreak From Wisconsin
Vijay Aswani, MD, PhD
WMJ. 2015;114(5):180-182.
In This Issue
Avoiding Fumbles and Understanding Populations
John J. Frey III, MD, WMJ Medical Editor
WMJ. 2015;114(5):183-184.
ORIGINAL RESEARCH
Discharge Education for Residents: A Study of Trainee Preparedness for Hospital Discharge
Jennifer L. Carnahan, MD, MPH; Kathlyn E. Fletcher, MD, MA
WMJ. 2015;114(5):185-189.
The Prevalence of Type 2 Diabetes Mellitus in a Wisconsin Hmong Patient Population
Kevin K. Thao, MD, MPH; Brian Arndt, MD; Aman Tandias, MS; Lawrence Hanrahan, PhD, MS
WMJ. 2015;114(5):190-195.
Incidence, Survival, and Mortality of Malignant Cutaneous Melanoma in Wisconsin, 1995-2011
Molly Peterson, BS; Mark R. Albertini, MD; Patrick Remington, MD, MPH
WMJ. 2015;114(5):196-201.
A Review of Pregnancy-Related Maternal Mortality in Wisconsin, 2006-2010
Michael A. Schellpfeffer, MD, MS; Kate H. Gillespie, RN; Angela M. Rohan, PhD; Sarah P. Blackwell, MPH
WMJ. 2015;114(5):202-207.
CASE REPORT
Early Detection by Ultrasound of Partial Hydatidiform Mole With a Coexistent Live Fetus
Kanika Gupta, MD; Bhuvaneswari Venkatesan, FRCR; Meenakshisundaram Kumaresan, MD; Tushar Chandra, MD
WMJ. 2015;114(5):208-211.
BRIEF REPORT
Evaluation of a Curriculum to Improve Clinician Communication With Adolescents
Amy Olejniczak, MS, MPH; Hannah Otalora-Fadner, BA; Christina Hanna, MPH; Emma Hudson, MPA, MPH; Joanna Tess, MPH; Heather Royer, PhD, RN
WMJ. 2015;114(5):213-216.
YOUR PROFESSION
Looking Back…to 1940
Wisconsin Marches On
Amy Louise Hunter, MD
WMJ. 2015;114(5):178-179.
MetaStar Matters
Improving Identification of Depression and Alcohol Use Disorder in Primary Care and Care Transitions for Behavioral Health Conditions
Jay A. Gold, MD, JD, MPH; Christopher Becker, CPHIMS, CPHIT, PAHM, CHTS-IM
WMJ. 2015;114(5):219.
YOUR PRACTICE
True Partners
W. Stancil Starnes, JD
WMJ. 2015;114(5):222-223.
Share WMJ