August 2018
Big Data, Smaller Practices: What's the answer to improving care?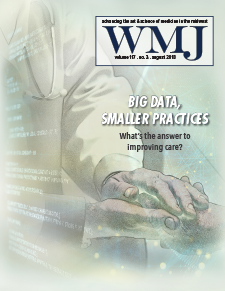 Finding ways to improve the quality of care is an ongoing goal in health care, and two key efforts are highlighted in this issue of WMJ: the value of using "big data" to drive quality and the recent growth of direct primary care.
Click here to download a complete PDF of the issue. Click here to view the WMJ archive.
TABLE OF CONTENTS
Editorial
As I See It
The Loneliness of Mental Illness at the End of Life
Eileen Ahearn, MD, PhD
In This Issue
Small Is Beautiful* – or Is It?
John J. Frey III, MD, WMJ Medical Editor
Commentary
METRICS for Metrics
Melissa M. Stiles, MD; Bruce Barrett, MD, PhD; John W. Beasley, MD
Review Article
Defining the Place of Direct Primary Care in a Value-Based Care System
Lindsey E. Carlasare, MBA
Original Research
Identifying Differences in Rates of Invitation to Participate in Tobacco Treatment in Primary Care
Kristin M. Berg, MD, MS; Stevens S. Smith, PhD; Megan E. Piper, PhD; Michael C. Fiore, MD, MPH, MBA; Douglas E. Jorenby, PhD
Surveillance of Wisconsin Organisms for Trends in Antimicrobial Resistance and Epidemiology: Introduction to the Program and Summary of 2016 Geographic Variation
Erik Munson, PhD; Erin Hueppchen; Heather Zeman
Brief Report
Screening Pediatric Patients for Food Insecurity: A Retrospective Cross-Sectional Study of Comorbidities and Demographic Characteristics
Rachel Rongstad, BA; Megan Neuman, MD; Parvathy Pillai, MD, MPH; Jen Birstler, MS; Larry Hanrahan, PhD, MS
Case Reports
Ultrasound-Enabled Noninvasive Management of Inadvertent Carotid Cannulation
Stacy Libricz, PA-C; Ayan Sen, MD; Victor Davila, MD; Jeff Mueller, MD; Alyssa Chapital, MD, PhD; Samuel Money, MD
Rapid Therapeutic Response of Eosinophilic Meningoencephalitis in a Toddler With Baylisascaris procyonis Infection
Grace N. Muganda, MD; Naomi E. Akagi, BA; Olufisayo D. Fagbemi, BS; Michael J. Chusid, MD; Anika M. Nelson, MD
Your Profession
Dean's Corner
Expanding Our Work: A Multifaceted Approach to Improving Mental Health Access
Jon Lehrmann, MD; David Peterson, MBA, FACMPE; Joseph E. Kerschner, MD; John R. Raymond Sr., MD
MetaStar Matters
Wisconsin Health Care Making Progress Toward CMS Quality Strategy Goals
Kristin Westphal, MS, and Jody Rothe, RN, DON-CLTC
Share WMJ