December 2022
Snowmobile-Related Injuries in Rural Wisconsin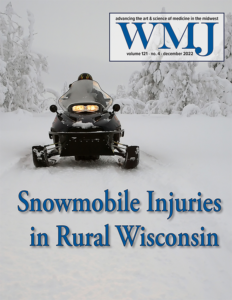 Snowmobiling is a popular winter activity in Wisconsin and also a source of injury. Unfortunately, due to the rural location and procedure for reporting snowmobile-related injuries, assessing the magnitude of the problem is challenging. A study in this issue of WMJ sought to accurately calculate the incidence and severity of these injuries over a 5-year period.
Click here to download a complete PDF of the issue. Click here to view the WMJ archive.
EDITORIAL
From the Editor
Wisconsin Medical Journal: Past, Present, and Future
Fahad Aziz, MD, FASN, WMJ Editor-in-Chief
Letter to the Editor
Leveraging Virtual Platforms to Overcome the Minority Tax Among International Medical Students and Professionals 
Gopika SenthilKumar; Matheus Moreira S. Peraci
Commentary
Leading by Example: How a Health Care Provider's Actions Can Impact the Public's Perspectives 
Uyi Jefferson Imasuen; Sandesh Parajuli, MD
ORIGINAL RESEARCH
Analysis and Incidence Calculation of Snowmobile Injuries Identified in a Rural Wisconsin Health Care System Over Five Years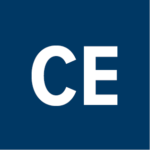 Jennifer P. King, MPH; Oluwatosin Olaiya, MBChB, MSc; Daniel C. Cullinane, MD
Missing Out: Underutilization of Primary Care by Wisconsin Patients Who Smoke and Its Implications for Tobacco Treatment Access
Margaret Nolan, MD, MS; Alexandra Spicer, BA; Patrick Remington, MD, MPH; Kristen Malecki, PhD, MPH; Danielle McCarthy, PhD
Increased Alcohol-Related Mortality in Wisconsin Pre-COVID: A Two-Decade Trend 
Lynne Cotter, MPH; Thomas Bentley, MS; Pamela Imm, MS; Paul D. Creswell, PhD
Adherence to Clinical Practice Guidelines for Treatment of Bell's Palsy 
Nancy Ly, MD; Bethany R. Powers, MD; Scott R. Chaiet, MD, MBA
Does a Change in Physician Compensation Lead to Changes in Care Delivery in Family Medicine Clinics? 
Jennifer Lochner, MD; Jen Birstler, MS; Maureen A. Smith, MD, MPH, PhD; Paul Rathouz, PhD; Brian Arndt, MD; Mark Micek, MD; Elizabeth Trowbridge, MD; Elizabeth Perry, MD; Sandra Kamnetz, MD; Nancy Pandhi, MD, MPH, PhD
Documenting Patient Interaction: Emergency Medical Services Report Reader Expectations and Improvements for Providers 
Elizabeth L. Angeli, PhD; Julia Jezykowski, EMT-B; Patrick Sinclair, DO; Tom Grawey, DO; James T. Poltrock, MA, CPM, EMT-P; Ben Weston, MD, MPH
REVIEW
Intractable Seizures in Children With Type 1 Diabetes: Implications of the Ketogenic Diet 
Kimberly K. Vidmar, MD; Allison J. Pollock, MD
BRIEF REPORTS
Surveillance for the Rare Condition of Sickle Cell Disease in Wisconsin 
Ashima Singh, MS, PhD; Mahua Dasgupta, MS; Dawn Retherford, BS; Mei Baker, MD; Mary Hulihan, DrPH; Amanda M. Brandow, DO, MS
Use of Peer- and Self-Evaluation to Improve Conversations with Interfacility Referring Clinicians 
Anika Nelson, MD; Svetlana Melamed, MD; Sarah Corey Bauer, MD; Erin Preloger, MD; Kelsey Porada, MA; Jennifer Hadjiev, MD
Collaborative Rooming: An Innovative Pilot Project to Overcome Primary Care Challenges 
Gagandeep Singh, MD; Jill G. Lenhart, MD; Richard A. Helmers, MD; Michele Renee Eberle, MBA; Heather Costley, MSN, RN, CMNL; Joel B. Roberts; Robert S. Kaplan, PhD
Getting SET for Student Success: Foundations for a Student Education Team 
Sarah M. Strahm, APNP, RN; Kimberly A. Frodl, MD; John Organick-Lee, MD; Erica L. Vogel, PA-C; Stephanie M. Raap, PA-C; Justin Chilson; Mark E. Deyo-Svendsen, MD; Donn D. Dexter, MD; Terri Nordin, MD
Helping Residents Excel in Team-Based Care: An Interactive Case-Based Interprofessional Education Curriculum 
Cecilia Scholcoff, MD, MPH; Katherine Sherman, MS; Jessica Kuester, MD; Amy Farkas, MD, MSc
Simulation-Based Medical Education: Development of an Assessment Tool for Novice Use 
Sasha M. Ulrich, MD; Joseph C. L'Huillier, MD; Sarah A. Jung, PhD; Laura K. Krecko, MD; Alexandra A. Rosser, BS; Amy K. Schulze, MD; Amy E. Liepert, MD; Ann P. O'Rourke, MD, MPH
Medical Students as Educators: Students' Experience, Interest, and Confidence in Teaching 
Leah Cha, BA; Lydia Buzzard, BS; Mallory Jasicki, MPH; Jennifer Mirrielees, MD, MS; Aimee T. Broman, MA; Scott Mead, MD
Enhancing Communication Among Adolescents and Health Care Providers: Evolution and Evaluation of Youth-Driven Initiative Addressing Barriers
Chelsea J. Aeschbach, MPH, CHES; Amy B. Olejniczak, MS, MPH; Erica R. Koepsel, MA; Mary M. Kusch, BA
CASE REPORTS
Disseminated Histoplasmosis: An Unusual Cause of Bowel Obstruction
Kent J. Peterson, MD; Michael R. Rose, MD, MPH; Caroline Davitt, MD; Kirk A. Ludwig, MD
Nine Successful Pregnancy Outcomes in a Woman With Vascular Ehlers-Danlos Syndrome: A Case Report and Literature Review 
Zarif Zaman, MGCS, CGC; Sonja J. Henry, MS, CGC; Laura E. Birkeland, MS, CGC; Elizabeth M. Petty, MD
A Triad of Pericarditis, Pericardial Effusion, and Pleural Effusion as the Predominant Presentation of Rheumatoid Arthritis — A Case Report 
Adam Devine, MD; Michael Aljadah, MD; Rebecca Weiner, DO; Iryna Nemesh, MD; Divyanshu Mohananey, MD
DEAN'S CORNER
Harnessing Data to Foster Research and Improve Population Health 
Jomol P. Mathew, PhD; Robert N. Golden, MD
Elevating Science at the Medical College of Wisconsin 
Joseph E. Kerschner, MD
Index to Articles: Volume 121 (2021) online at www.wmjonline.org
 *Articles with this symbol have been approved for Continuing Education Credit. Click on the link to access each article and registration information.
Share WMJ