October 2021
Rural Health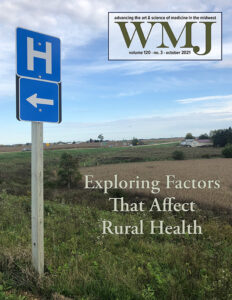 Approximately 20% of Americans live in rural areas, yet rural Americans are less likely to have health care, have decreased access to health care, and may often need to travel long distances to find a doctor or hospital. In this issue of WMJ, authors explore some of the myriad factors that affect rural health outcomes.
Click here to download a complete PDF of the issue. Click here to view the WMJ archive.
TABLE OF CONTENTS
EDITORIAL
In This Issue
Exploring Factors That Affect Rural Health 
Sarina Schrager, MD, MS, WMJ Editor-in-Chief
Commentary
The Wisconsin Infection Prevention Center: The Value of a Statewide Infection Prevention Center 
Nasia Safdar, MD, PhD; L. Silvia Munoz-Price, MD, PhD; Robert N. Golden, MD; Joseph E. Kerschner, MD; Ann Nattinger, MD, MPH; Ryan Westergaard, MD, PhD, MPH
Letter to the Editor
Empathy for the Unvaccinated 
Margaret L. Schwarze, MD, MPP; William J. Ehlenbach, MD, MSc
Letter to the Editor
Racial and Ethnic Differences in Zoster Vaccine Uptake: A Cross-Sectional Study in a Veterans Health Administration Primary Care Clinic
Marvin J. Bittner, MD; Gia Thinh D. Truong, BS; Zachary A. Creech, BS
ORIGINAL RESEARCH
Driving Time to Trauma Centers for Children Living in Wisconsin 
Keon Young Park, MD, PhD; Benjamin L. Eithun, CRNP; Jeffrey Havlena, MS; Jessica Draper, APNP; Randi S. Cartmill, MS; Michael K. Kim, MD; Jonathan E. Kohler, MD, MA
Trends in Mortality at a Level II Rural Trauma Center 
David L. McClure, PhD; Daniel C. Cullinane, MD; Ivan L. Maldonado, MD
Rural Residence Predicts Lower Cardiac Mortality and Better Mental Health Outcomes
Danyon Anderson, BA; Paul Beinhoff; BS; Leslie Ruffalo, PhD
Medical Student Burnout as Impacted by Trait Emotional Intelligence – Moderated by Three-Year and Four-Year Medical Degree Programs and Gender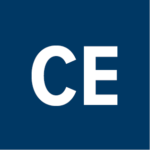 Robert Treat, PhD; William J. Hueston, MD; Jeff Fritz, PhD; Amy Prunuske, PhD; Craig J. Hanke, PhD
Quality of Dietary Intake in Children With Developmental Disabilities: A Pilot Study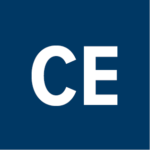 Andrea Moosreiner, MPH, RD, CD; Michele Polfuss, PhD, RN, CPNP-AC/PC; Bethany Forseth, PhD, MS
Does a Centralized Scheduling Process Improve Referral Timeliness? 
Quinn Bongers, MD; Bradley H. Crotty, MD, MPH; M. Chris Decker, MD; John Fangman MD
REVIEWS
Electronic Vaping Product Use Among Adolescents in the Era of the COVID-19 Pandemic: An Updated Scientific Review for Clinicians 
Pravesh Sharma, MD; Taharat Sheikh; Christopher Williams, MD
Adverse Childhood Experiences: Perceptions, Practices, and Possibilities 
Hannah T. Sherfinski, BS; Paige E. Condit, MD; Samantha S. Williams Al-Kharusy, MD; Megan A. Moreno, MD, MSEd, MPH
BRIEF REPORTS
Rapid Transition to Telemedicine During the COVID-19 Pandemic: Medical Genetics Experience 
Sara Zoran, MS, CGC; Christie Turcott, MS, CGC; Amy Whitehead, MPA; Lynn Hrabik, MPH, RDN; Anne Harris, PhD; Jessica Scott Schwoerer, MD
Community Assessment of Extreme Heat Preparedness in Milwaukee, Wisconsin 
Megan L. Christenson, MS, MPH; Colleen E. Moran, MS, MPH; Bria S. Grant, BS; Nicholas C. Tomaro, DVM, MPH; Jon G. Meiman, MD
Opioid Overdose Mortality Trends in Wisconsin, 2004-2019 
Erin C. Nacev, MD, MPH; Marina C. Jenkins, BA; Calvin W. Lee, PharmD, MPH
Student Leadership Development Initiative: Benefits of a Unique Medical Student Organization 
Allison R. Linehan, MD; Alexander R. Chartier, MD; Yizeng He, BA; Michael Sobin, MD; William J. Hueston, MD; John R. Meurer, MD, MBA
CASE REPORTS
Evidence of Early Household Transmission of SARS-CoV-2 Involving a School-Aged Child 
Jonathan L. Temte, MD, PhD; Shari Barlow, BA; Emily Temte, BA; Maureen Goss, MPH; Kelsey Florek, PhD, MPH; Katarina M. Braun, MD; Thomas C. Friedrich, PhD; Erik Reisdorf, MS; Allen C. Bateman, PhD, MPH; Amra Uzicanin, MD, MPH
The Risks of Reflexive Refilling 
Olivia R. McCarty, MD; Margaret Pertzborn, PharmD; Paul A. Bergl, MD
Pausing During the Pandemic: Addressing Cognitive Biases in Providers' Medical Decision-Making During the COVID-19 Era
Sarah Yale, MD; Jacqueline Lee, MD; Natalya Beneschott, MD; Amanda Rogers, MD
Austrian Syndrome – A Rare Clinical Triad 
Lauren E. Watchmaker, BA; Dana Ley, MD; Bartho Caponi, MD
Verbal Amnesia Secondary to Unilateral Infarct of the Mediodorsal Thalamic Nucleus 
Haley Pysick, MD; Donn Dexter, MD; Christopher Lindsay, MD
FROM THE DEANS
Making Human and Social Differences our Source of Strength
Joseph E. Kerschner, MD
 *Articles with this symbol have been approved for Continuing Education Credit. Click on the link to access each article and registration information.
Share WMJ